Driveway & Patio Cleaning
Also offered by Vavavoom Valet is driveway/patio cleaning. This service is very much required after our hard winters where moss and algae form on patio areas.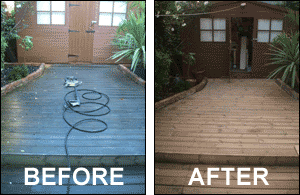 We use high pressure rotary machines to enable us to provide a high quality finish for block paving, crazy paving, patios, driveways etc.
If needed we complete our service by re-sanding the cleaned area.
You will be amazed the difference our work makes to your home. This is a service beneficial to offices for forecourts and car park areas where a good impression is important to clients. Our pricing is based according to the size of the area to be cleaned. Please request estimate.